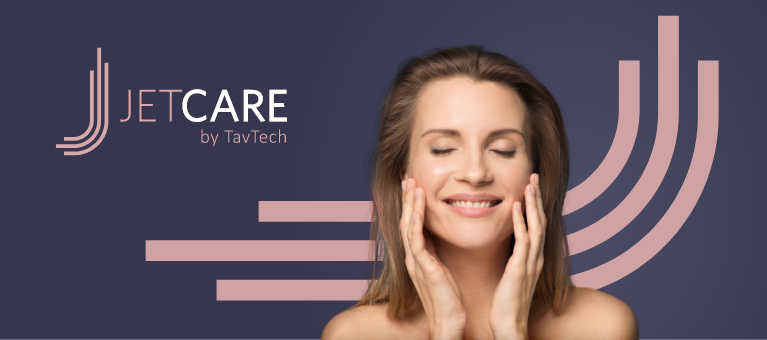 JetPeel by TavTech – the perfect trio combining the enduring JetPro device, the original patented JetPeel handpieces, and the new and improved JetCare solutions designed exclusively for use together to deliver outstanding results

Powerful JetPeel treatments begin with JetCare Hydro
JetCare Hydro is a water-based formula specially designed for use before the exfoliation and infusion stages of JetPeel treatments. The gentle yet powerful lymphatic massage with JetCare Hydro cleanses the skin, and is the ideal preparatory stage, readying it to receive the active ingredients and nourishment of JetCare exfoliating, infusion and boosting treatments.
The JetCare Hydro, comprises a very mild concentration of sodium chloride solution, combined with soothing organic aloe vera, and reinforced with a relatively high concentration of hyaluronic acid.

Personalized exfoliation – suited to your skin
The Renewal Care line is JetCare's exclusive treatment solutions for exfoliating. Resurface the skin with a range of solutions, formulated with varying concentrations of glycolic acid to suit every skin type. Rich in alpha and beta hydroxy acids (AHA and BHA), the natural exfoliating power is gentle yet highly effective.
Choose from 5%, 10% or 16% glycolic acid concentrations to achieve gentle, medium or strong exfoliating action in a safe and effective way. Renewal Care solutions are formulated with a pH level of 3.5, ideally designed to assure a productive exfoliating experience without any burning or damaging effect. Enjoy the rebalancing exfoliation of Renewal Care, the AHA and BHA power of JetPeel.

Get ready for smooth, youthful looking and radiant skin
Anti-Aging Care by JetPeel is an exclusive, updated line of advanced age-defying formulas, specially targeted for mature skin. Combat the appearance of fine lines, sagging and dullness with the ultimate care collection, based on the smoothing, toning properties of hyaluronic acid, select peptides and powerful natural extracts that regenerate the skin's natural radiance.
The Anti-Aging Care collection includes Wide Range Hyaluronic Acid, a treatment solution enriched with several molecular weights of HA that penetrate and treat wrinkles from the deepest layers to the surface. Tone and glow up the skin with the Witch Hazel & Peptides solution, richly concentrated with astringent witch hazel and protein boosting peptides for a firming impact. And the rich Peptide Complex solution is ideal for skin that shows signs of aging and loss of elasticity, helping to recover firmness with amino-rich peptide power.
Advanced skin treatments targeted to specific needs
Selective Care is JetPeel's exclusive, state-of-the-art line of targeted treatments for the skin and hair, focusing on specific customer and patient concerns, and enriched with the most advanced patented and bio-tech based ingredients.
Infused with antioxidant rich ingredients and biopeptides, the JetCare Select line enables you to brighten the skin with a stable vitamin C component for a Lightening effect, or to Clear signs of acne, Soothe redness and galvanize the Scalp and Hair with exclusive targeted solutions. And new to this line is the exclusive, cutting-edge Growth Factor, a top-of-the-line anti-aging treatment enriched with Epidermal Growth Factor, the next generation solution for a restored appearance of youth and vitality, and high concentration Argireline Complex for reducing fine lines and wrinkles.
Argireline® is a trademark of Lipotec S.A. or its affiliates

Boost the power of JetPeel treatments with amplifying solutions
Get more from JetCare with the intensive, nourishing Boost line, booster serums that complement the JetPeel treatments and accelerate results for a more powerful and longer lasting impact.
JetCare Boost features four booster serum solutions: Hyaluronic acid-infused volumizing Hydrate; Vitamin A and E enriched Regenerate; Glow fortified with Vitamin C, and Tight, made up of three Vitamin B derivatives for a firming, toning impact.
Choose the right booster treatment for the specific skin type and needs, helping to enhance skin tone and appearance, while boosting customer satisfaction. Or enjoy the Boost Set that offers a mix of booster serums for a wide-ranging JetCare solution that drives a youthful, radiant, and vital appearance.