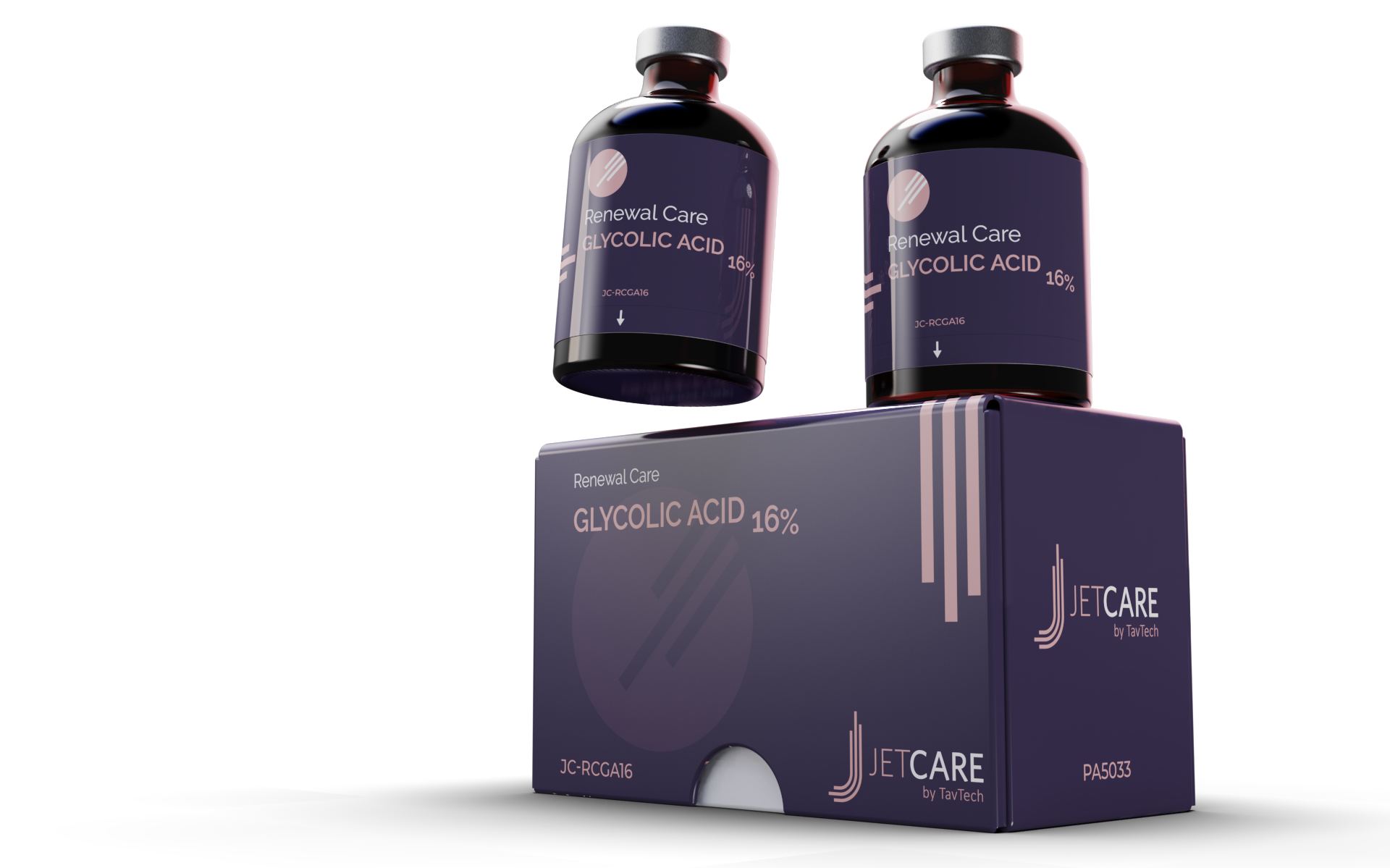 Strong exfoliation for mature skin
Coming after the lymphatic massage, exfoliation is the second step in the JetPeel treatment regimen. Exfoliation rids the skin of debris and prepares it for the next step of nourishing infusion.
The natural pH level of the skin is 4.7, and it plays a vital role in helping to protect the surface and keep skin resilient in the face of detrimental environmental effects. The skin has a built-in protective film known as the acid mantle. Keeping the skin's acidic pH at the right level is vital to maintaining balance of the delicate microbiome of the skin, creating conditions that discourage the growth of harmful bacteria and support good bacteria to flourish.
The most effective exfoliating products are known to have a pH between 3.2 to 3.9. This Renewal Care series is adjusted to pH of 3.5, placing it in the ideal range for highly effective exfoliation without causing any burning or damaging effects.
Glycolic Acid
Glycolic Acid is an AHA which is an exfoliant that helps remove dead skin layers and refine the surface of the skin. This may have the effect of smoothing fine lines for a more youthful impression. This series comes in 3 different glycolic acid concentrations: 5%, 10%, and 16%: each suited to exfoliate different skin types and conditions, allowing the caregiver to personalize the concentration.
Organic Aloe Vera
This enduring extract, known for its calming effect, is a significant ingredient in the Renewal Care Glycolic Acid series. Aloe Vera is proven to be an antioxidant emollient that instantly softens and soothes the skin, providing antimicrobial benefits.
Pro-vitamin B5- Panthenol
D-Panthenol helps nourish and add vital moisture to the skin, by sealing in hydration, boosting the skin barrier, and helping to rejuvenate and revitalize skin cells for an overall age-defying effect.