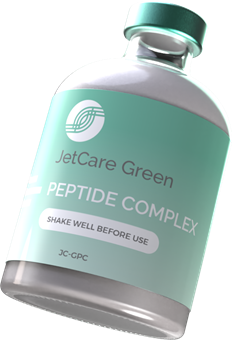 JetCare Green Peptide Complex
JetCare Green Peptide Complex infusion is based on a unique formula of eco-ingredients that smooth fine lines and soften facial muscles for a more youthful appearance.
The Peptide Complex provides advanced JetPeel anti-aging effects with the sustainable and eco-conscious approach of JetCare Green.
Argireline® Amplified Peptide Solution:
Next generation multi-active peptide based on 'green chemistry'. Helps slow down the natural aging process in the epidermal layers, while relaxing facial muscles for a smoother, even appearance.
Primalhyal 3K™:
Hyaluronic acid blend concentrated in 3 molecular weights, providing anti-aging effects at different levels of the skin.
○ 100-300 kDA: Helps boost natural healing processes and the skin's protective defenses in the upper skin layers.
○ 20-50 kDA: The ideal size to improve skin functioning and tone the skin for a firmer appearance.
○ 5-20 kDA: The smallest HA component penetrates to the deeper skin layers to help rejuvenate from within.
Niacinamide:
Vitamin B3 is rich in antioxidants that fight free radicals and helps build skin proteins for a firmer sensation. Helps soothe redness and inflammation, and locks in moisture to prevent damage and protect skin against signs of aging.
Natura-tec Plantsil™:
A hydrogenated ester derived from olive. It leaves a unique soft sensation and a long-lasting silky feel satiny effect.
Campo Plantservative:
100% botanical-based preservative extracted from 2 herb varieties of the Japanese Honeysuckle flower. Delivers microbial and bacterial protection.
*Argireline® is a trademark of Lipotec S.A. or its affiliates