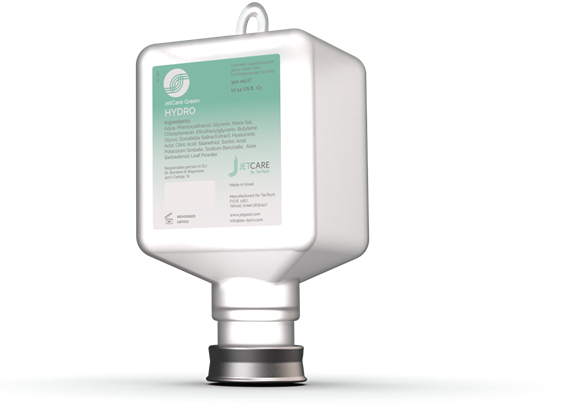 The JetPeel treatment begins with a relaxing lymphatic massage that stimulates micro-circulation and helps detoxify the skin.
JetCare Green Hydro is formulated with natural origin and eco-certified ingredients, to cleanse and prepare the skin for JetPeel exfoliation and infusion.
Allantoin:
Comfrey root extract helps hydrate, exfoliate and smooth the skin surface to restore the skin's natural glow.
Propanediol:
Produced sustainably from corn sugar, helps boost moisture and soothe the skin. Propanediol is the world's first 100% bio-based glycol alternative certified by the Natural Products Association (NPA).
Organic Aloe Vera:
An antioxidant emollient that rapidly softens the skin and provides antimicrobial action. The powerful calming effect of Aloe Vera is an essential element in the opening stage of the JetCare Green treatment.
Cosphagard® Elbe:
A blend of the naturally derived multifunctional Sodium Levulinate and Sodium Benzoate. This blend maintains antimicrobial efficiencies against bacteria, yeasts and molds, and replaces preservatives such as Parabens, MIT and Triclosan