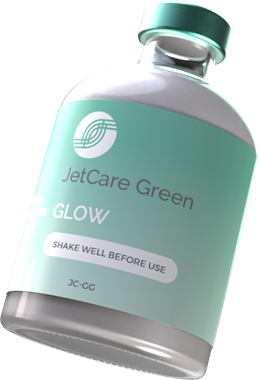 In the Infusion step of the JetPeel treatment, the JetPeel device delivers nutrients into the skin.
The active natural origin ingredients in JetCare Green Glow are formulated to help soothe the signs of aging and enhance the skin's beautiful glow.
Tego® Turmerone:
Natural purified turmeric extract from organically grown Curcuma longa. Renowned as a powerful antioxidant, helps protect skin from oxidative stress. Ideal for smoothing fine lines, restoring even tone and boosting skin radiance.
Primalhyal 3K™:
Hyaluronic acid blend concentrated in 3 molecular weights, providing anti-aging effects at different levels of the dermis.
 –  100-300 kDA: Helps boost natural healing processes and the skin's protective defenses in the upper skin layers.
 – 20-50 kDA: The ideal size to improve skin functioning and tone the skin for a firmer appearance.
 – 5-20 kDA: The smallest HA component penetrates to the deeper skin layers to help rejuvenate from within.
Niacinamide:
Vitamin B3 is rich in antioxidants that fight free radicals and helps build skin proteins for a firmer sensation. Helps soothe redness and inflammation, and locks in moisture to prevent damage and protect skin against signs of aging.
Campo Plantservative:
100% botanical-based preservative extracted from 2 herb varieties of the Japanese Honeysuckle flower. Delivers microbial and bacterial protection.