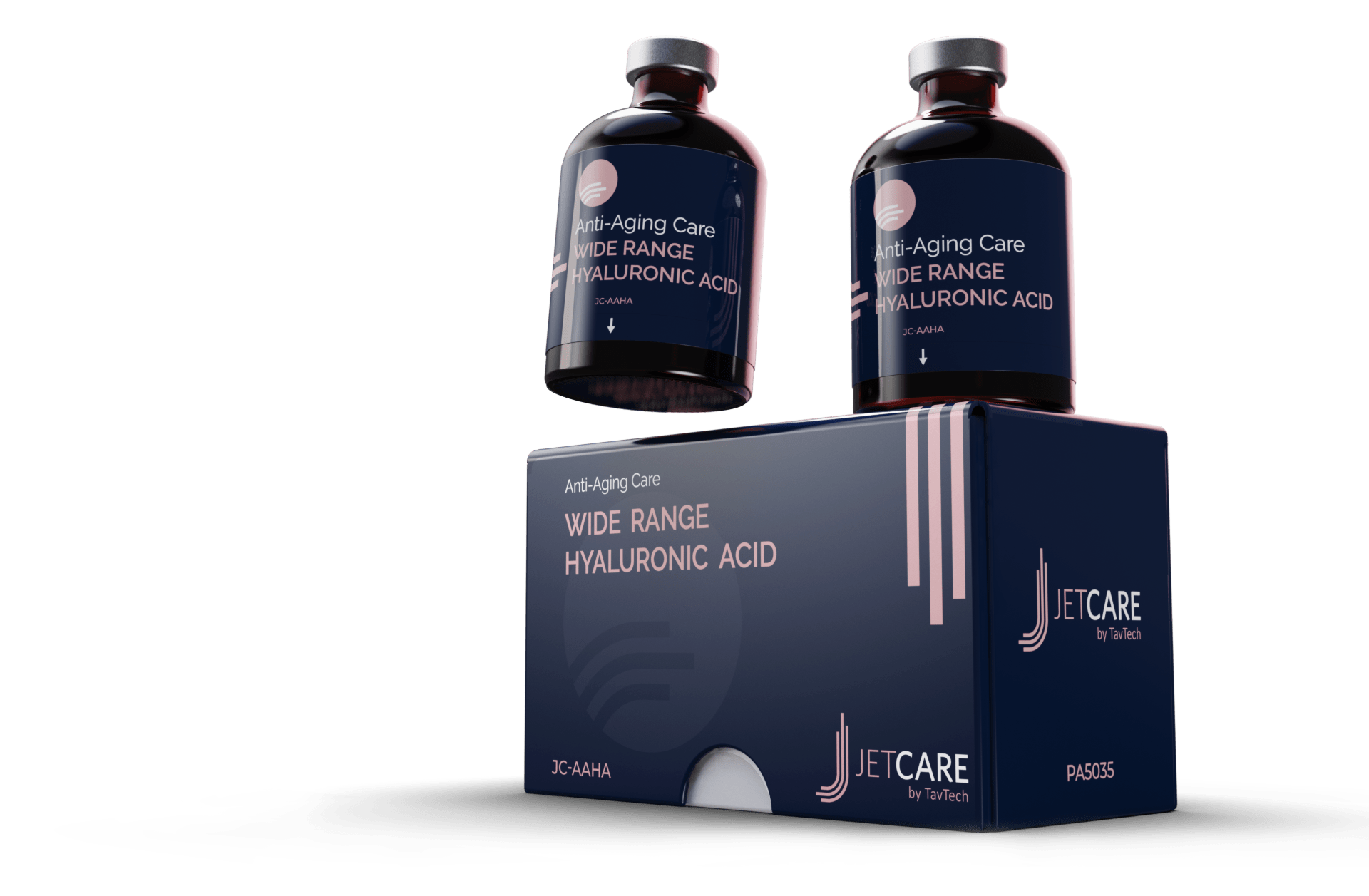 Wide Range Hyaluronic Acid
Delivers smoothing & firming effects
Deliver the instant, long lasting effects of hyaluronic acid (HA), with a unique wide-range complex containing five molecular weights of HA which enable simultaneous infusion into different layers of the skin. Combined with select peptides, this product is highly versatile and powerful as a basic component in the JetCare line.
Wide range molecular weight hyaluronic acid formula gets results
The best effects of HA are achieved by combining several molecular weights that can penetrate to the different layers of the skin. Low- and medium-weight HA molecules can go deeper into the skin, increasing hydration over time. High-weight HA molecules lie on the surface level, for instant hydration. This unique formula combines five different HA molecular weights for the optimal treatment and results.
Hyaluronic Acid
5-20 kDa HA: replenishes and rejuvenates the skin from the inside at deeper layers
20-50 kDa HA: enables penetration that boosts the biomechanical properties and firmness of the skin
100-300 kDa HA: reinforces the skin's natural defenses and helps accelerate repair action for a smoother sensation
150-600 kDa HA: provides the renewal sensation of HA on the skin's surface level for immediate anti-aging effects
1,500-1,800k Da HA: provides a moisturizing boost, forming an enriching film on the skin surface for a smoother appearance
Regu-age®
This synergistic blend of patented peptides and proteins demonstrates fast action anti-aging benefits. Containing purified soy and rice peptides, blended with biotech-produced yeast protein, this complex helps to boost tone and radiance.