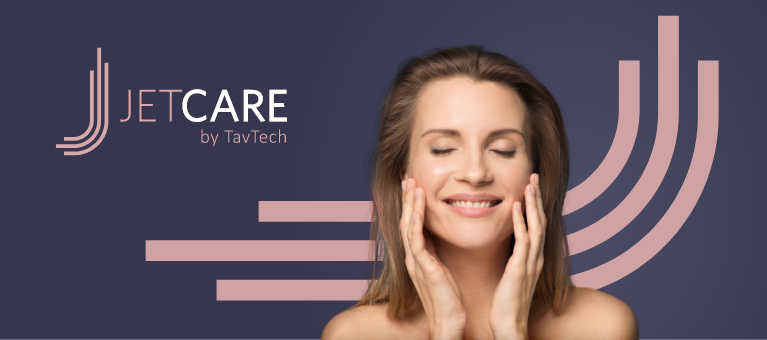 JetPeel by TavTech – the perfect trio combining the enduring JetPro device, the original patented JetPeel handpieces, and the new and improved JetCare solutions designed exclusively for use together to deliver outstanding results
The JetCare line of cosmetic solutions takes the JetPeel advantage to the next level, so the skin feels smoother, brighter and more beautiful than ever.
The JetCare line, comprising the most advanced materials and ingredients, has been specially researched, formulated, developed and tested by TavTech to suit JetPeel's unique handpieces and jet pressure energy devices for maximum efficacy and results for all skin types.
JetPeel sessions are initiated with JetCare Hydro. This gentle water-based solution is formulated especially for the initial lymphatic massage, and to prep the skin for the deeper JetCare treatments which follow.

JetCare Hydro
JetCare Hydro is a water-based formula specially designed for use before the exfoliation and infusion stages of JetPeel treatments. The gentle yet powerful lymphatic massage with JetCare Hydro…
The ultimate exfoliating treatment line with AHA's and BHA's, specially formulated in various concentrations for the needs of all skin types. Advanced, updated solutions refine the skin for renewed glow and radiance.

Glycolic Acid Series
Coming after the lymphatic massage, exfoliation is the second step in the JetPeel treatment regimen. Exfoliation rids the skin of debris and prepares it for the next step of nourishing infusion…

Mandelic & Salicylic
The gentlest way to achieve a deep exfoliating and resurfacing effect, this solution is enriched with a blend of AHA & BHA that form the ideal combination for maximum benefit. The result is radiant, fresher, and more vibrant skin…
Take anti-aging treatment to the next level with Anti-Aging Care solutions, innovatively formulated with different molecular size HA, patented bio-peptides and unique plant extracts to regenerate mature skin and restore the sensation of youth.

Wide Range Hyaluronic Acid
Deliver the instant, long lasting effects of hyaluronic acid (HA), with a unique wide-range complex containing five molecular weights of HA which enable simultaneous infusion into different layers of the skin…

Witch Hazel & Peptides
The formula of choice to help purify the skin, smooth surface blemishes, and create an even, unified tone and youthful radiance. This formula has a rich concentration of witch hazel extract…

Peptide Complex
Part of the Anti-Aging Care treatment series, the Anti-Aging Care – Peptide Complex is formulated for skin showing signs of aging and loss of elasticity. The blend of active peptide power helps to firm the skin's overall appearance for a more youthful sensation…
Advanced formulas to treat selected skin needs, based on the most advanced materials and ingredients. The Selective Care line especially suits these purposes and includes: growth factor, smoothing, soothing, clearing, lightening and scalp & hair treatment.

Growth Factor
Based on advanced skin rejuvenation technology, this JetCare anti-aging treatment harnesses the power of growth factors that help fight the effects of time and create a look of elastic and youthful skin…

Argireline® Complex
A safe alternative to standard anti-aging injection treatments, Selective Care – Argireline® Complex helps reduce the appearance of fine lines and expression lines for a smoother, age-defying look…

Clear
Specially formulated to achieve clear skin, this solution is rich in Omega Hydroxy Acids and Salicylic Acid that help smooth the skin surface and purify clogged pores for an even appearance…

Scalp & Hair
The ultimate JetCare treatment for men and women, this product is formulated with innovative targeted ingredients designed to rejuvenate the scalp and create the conditions for enhanced volume…

Soothing
Ideally formulated to relieve redness and blemishes, this treatment is based on an innovative formula with powerfully calming ingredients that hydrate, nourish and smooth uneven skin…

Lightening
Rich in advanced lightening ingredients, the Selective Care – Lightening treatment is the key to achieving the appearance of brighter skin and an even toned complexion…
Argireline® is a trademark of Lipotec S.A. or its affiliates
New and improved booster formulas designed to amplify the power of JetPeel infusions. Each JetCare Boost solution is powerfully concentrated with vitamins or uniquely formulated hyaluronic acid, designed to meet different objectives, including hydration and fine line filling, regeneration, firming and glow.

Hydrate
Enhance the JetPeel effect with the Hydrate treatment from the JetCare Boost series. Enriched with the PrimalHyal™ Ultrafiller, an advanced technology HA ingredient to rapidly volumize wrinkles…

Regenerate
This vitamin-enriched serum booster is specially formulated to regenerate the skin with the antioxidant power of Vitamins A and E for high performance anti-aging…

Glow
An excellent booster for a beautiful glow effect, containing a high concentration of Vitamin C. This unique solution is based on a Vitamin C derivative with superior stability…

Tight
A complex of three Vitamin B derivatives, this power booster delivers effective tightening and hydrating action…

Boost Set
There are 4 JetCare Boost varieties. One unit of each is included in the JetCare Boost Set for meeting a range of needs and desires…