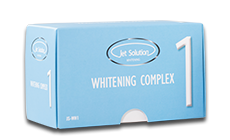 Whitening Complex 1 (JS-WHI)
Whiter, Brighter & Beautiful
Whether combating hyperpigmentation, sun and age spots, or dull skin, Whitening Complex 1 is the ultimate uniform skin brightening treatment exclusive to JetPeel.
For best results, exfoliate prior to whitening treatment with glycolic acid in Renewal Complex 1, 2 or 3, or Renewal Complex 4, based on Mandelic acid, for more sensitive skin that cannot tolerate treatment with glycolic acid.
Main Active Ingredients:
Stay-C Vitamin
A stable form of vitamin C resistant to oxidation that promotes whitening and brightening, found in rich concentration in Whitening Complex 1.
Bio-White
A compound of natural whitening extracts, such as lemon balm, achillea, grapevine, blackberry and skullcap, crowberry extract and licorice that combine to enhance whitening effects and reduce redness.
Perfect for: Face, chin, neck & décolleté, hands