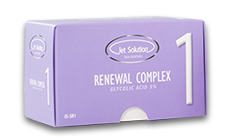 Renewal Complex 1 (JS-SRI)
Glycolic Acid 5%
The Gentle Way to Beautiful
When skin is sensitive and requires delicate care, Renewal Complex 1 is the ideal treatment, lightly concentrated with the perfect balance of active renewing ingredients. The exfoliating effect is powerful enough to deeply refine the skin, and gentle enough to ensure a comfortable, non-irritating treatment with beautiful results.
Renewal Complex 1, formulated with a gentle 5% dose of glycolic acid, is a light to medium exfoliation treatment, recommended for sensitive to normal skin types. Achieve full area exfoliation for clean, fresh and bright looking skin. Also recommended for specific areas of hyperpigmentation and sun or age spots, acne-prone or oily skin types. Follow with Jet Detox Water treatment to remove residual glycolic acid. Avoid sun exposure and use sunscreen for 24 hours following treatment.
Main Active Ingredients:
Glycolic Acid
Glycolic acid is an effective exfoliant, helping to shed dead skin cells and renew the skin's surface and appearance. It leaves the skin bright, cleansed and prepped to receive further nutritive treatment. Renewal Complex 1 contains 5% glycolic acid at pH 3.3, ideal for sensitive to normal skin.
Vitamin B5 & Aloe Vera
Soothing and gentle, vitamin B5 and aloe vera help to reduce the appearance of redness and lower the sensation of itchiness that may accompany the application of glycolic acid. This offers a pleasant and relaxing treatment experience while ensuring effective results.
Perfect for: Face, chin, neck, hands, arms, and thighs