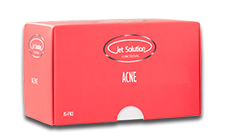 Acne (JS-FN3)
Combat Acne in Absolute Comfort
Stubborn, unsightly acne can occur on the face and different parts of the body. Yet with the exclusive Acne Complex and JetPeel delivery system, oily and acne-prone skin types can experience a pain-free, comfortable treatment that leaves the skin with a smooth even tone, restored balance sensation, and fresh healthy glow.
Specially formulated to cleanse skin, promote sebum regulation and restore balance to acne-prone skin, the astringent, soothing and purifying treatment leaves the skin smooth, even-toned, with a more matte finish. For best results on sensitive skin, it is recommended to exfoliate with Jet Detox Water prior to treatment. For normal skin, prior exfoliation with a glycolic acid-enriched Renewal Serum from the Skin Rejuvenation line is ideal.
Main Active Ingredients:
Acnacidol
Anti-bacterial and balancing, acnacidol is a unique compound enriched in sebo-regulating 10-Hydroxydecanoic Acid (10-HDA) for effective natural acne prevention treatment.
Palmitoyl Tripeptide-8
Designed to prevent and reverse redness and swelling. This powerful ingredient helps restore and maintain a normal skin sensitivity threshold, helping the skin better combat the causes of acne.
Aloe Barbadensis Leaf Juice
Deeply healing and repairing, aloe leaf juice stimulates fibroblast formation and promotes renewed skin growth. It is also highly antiseptic against many common bacterial and fungal causes of acne.
Phytic Acid
A natural antioxidant originating in botanical seeds and brans, phytic acid is known for its lightening, hydrating and sebo-regulating action.
Acne Complex is also enriched with soothing Heptapeptide-10 to reduce bothersome itchiness, and astringent Nettle Leaf Juice to reduce oiliness and create a matte skin finish.
Perfect for: Face, chin, neck & décolleté area, body (as required)